Maib named Best SME Bank in Moldova by Global Finance
10 Nov, 2023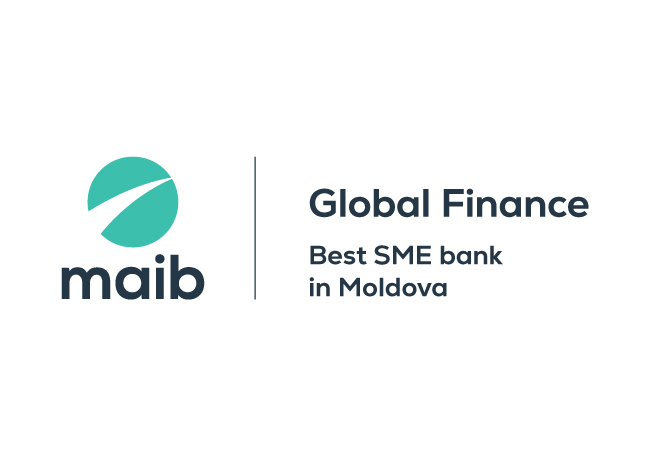 Maib has been named "Best SME Bank in Moldova" for the second consecutive year by Global Finance
Maib has received the award for the best SME bank in Moldova from Global Finance. The magazine has evaluated banks from 22 other countries in Central and Eastern Europe and has acknowledged maib's commitment towards supporting small and medium sized enterprises in Moldova. Over 32,000 SME and Business banking clients are currently serviced by maib, and out of all SME loans granted in Moldova in 2023, 47% were given by maib.
Key highlights for maib's SME Business Unit in 1H 2023:
Market share of SME loans reached 37%, up by 6.1% year on year.
SME consumers amounted to 31 thousand, up by 5.5% year on year.
The gross loan portfolio and deposits portfolio totaled to MDL 6.2 billion and MDL 6.3 billion respectively, up by 23.5% and 5.2% year on year respectively.
The cards portfolio reached over 12 thousand, up by 65.4% year on year.
Number of Internet Banking clients up by 6% year on year.
Joseph Giarraputo, founder and editorial director of Global Finance, said:
"Small and medium enterprises represent the majority of the global economy no matter the geographic region. By identifying financial partners that focus on this segment and deliver for local clients on the ground, country by country as well as more expansively, Global Finance provides a unique service to savvy entrepreneurs seeking the next level of financial success."
Giorgi Shagidze, maib CEO:
"We are very honored and grateful to be presented with the title of Best SME Bank in Moldova by Global Finance. The SME segment continues to be a key priority for us here at maib, and I believe this award recognizes that. Our employees work hard to improve our products and simplify our services, so that our 32 thousand SME clients continue to choose us as their business partner. With the importance of small and medium sized enterprises for any economy, we believe that it is our responsibility to keep supporting this segment."
About Global Finance
Global Finance, founded in 1987, has a print run of 50,000 and readers in 193 countries. The Global Finance audience includes senior corporate and financial officers responsible for strategic and investment decision-making in multinational companies and financial institutions, making the magazine a leading publication in the world of finance.
About maib
Maib is the largest bank in Moldova, with a share of 31.6% of deposits and 37.9% of loans of the entire banking system at the end of 1H 2023. Maib is a disciplined lender with NPL ratio of 3.3% and is well capitalised with CAR of 23.7% as of 30 June 2023. The Bank is of systemic importance to the country as it serves almost a third of the population and is the largest private employer in Moldova, with a workforce of over 2,400 people. Since 2018, maib's largest shareholder is a consortium, which includes the European Bank for Reconstruction and Development (EBRD), Invalda INVL, a leading asset management group in the Baltic States and Horizon Capital, a private investment fund focused on emerging markets.
Recent Investor Relations Releases
Upcoming investor events
21 November - 3Q 2023 Financial Results Release and Conference Call
05 December - WOOD's Winter Wonderland EMEA Conference
Contact investor relations
Press Contact
Daniela Șerban
E-mail: Dserban@vertikgroup.eu
Phone: +40742242662
Maib Investor Relations
Evgenii Risovich
E-mail: Evgenii.Risovich@maib.md
Phone: +37368403477