Best bank in Moldova for SMEs and Corporate Social Responsibility from Euromoney for maib
31 Oct, 2023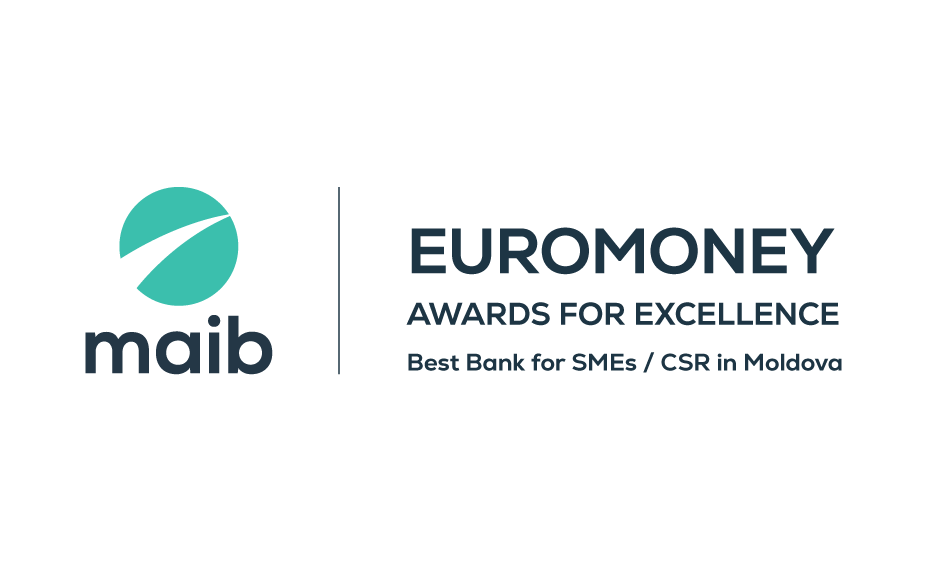 Investor Relations Release 31 October 2023
Euromoney recognizes maib as Best bank for SMEs and Corporate Social Responsibility in Moldova
Maib's leadership has been internationally recognized, with two more prestigious awards from Euromoney, reinforcing its position as the frontrunner of Moldovan banking. Euromoney recognized maib as the best bank in Moldova for SMEs and leader in Corporate Social Responsibility.
Maib's leadership highlighted by Euronomoney recognition
Earlier this year Euromoney named maib as the best bank in Moldova at its annual Awards for Excellence. This time maib was recognized for its efforts in SME banking as well as Corporate Social Responsibility. Euromoney has acknowledged maib's commitment towards supporting small-and medium sized enterprises in Moldova. Currently, maib services over 32,000 SME and Business banking clients, having granted 47% of the country's total SME loans in 2023. In terms of Corporate Social Responsibility maib's efforts in helping Ukrainian refugees in the country in 2022. Alongside a vary large donation to the state fund helping Ukrainians in Moldova, maib teamed up with UNHCR to issue over 120 thousand cards to Ukrainian refugees, which they could use to access much needed cash.
Giorgi Shagidze, CEO maib, said:
"I am deeply grateful to Euromoney for acknowledging our efforts with such prestigious awards. Even through economic challenges within the country, we keep the best interests of our small business customers at heart, providing them with new and improved products as well as intuitive digital solutions. Our Corporate Social Responsibility programme is one of the largest in the country, and we are especially proud of maib's efforts last year to help Ukrainians in Moldova. Of course, none of this would have been possible without the exceptionally talented team working here at maib, whom I would like to also thank for making such achievements happen. I am certain that our company vision, strategic direction, commitment and professionalism will allows us to continue surpassing expectations."
About Euromoney
Euromoney magazine was launched in 1969 to cover the emergence of the international cross-border capital markets. The Euromarket, after which the magazine is named, is the predecessor to today's mainstream global capital markets. Today, Euromoney is the primary magazine of the wholesale financial world, its institutions and its users, and has been for more than 50 years.
About maib
Maib is the largest bank in Moldova, with a share of 33.8% of deposits and 38.2% of loans of the entire banking system at the end of 3Q 2023. Maib is a disciplined lender with NPL ratio of 3.3% and is well capitalised with CAR of 23.7% as of 30 June 2023. The Bank is of systemic importance to the country as it serves almost a third of the population and is the largest private employer in Moldova, with a workforce of over 2,400 people. Since 2018, maib's largest shareholder is a consortium, which includes the European Bank for Reconstruction and Development (EBRD), Invalda INVL, a leading asset management group in the Baltic States and Horizon Capital, a private investment fund focused on emerging markets.
Recent investor relations releases
Upcoming investor events
21 November - 3Q 2023 Financial Results Release and Conference Call
05 December - WOOD's Winter Wonderland EMEA Conference
Contact investor relations
Maib Investor Relations
Evgenii Risovich
Phone: +37368403477
E-mail: Evgenii.Risovich@maib.md
Press Contact
Daniela Șerban
Phone: +40742242662
E-mail: Dserban@vertikgroup.eu
For further enquiries, please contact: IR@maib.md or by phone at +373 22 303 237 or visit our website ir.maib.md.