Maib named Best Bank in Moldova in 2022 by EMEA Finance
27 Jun, 2023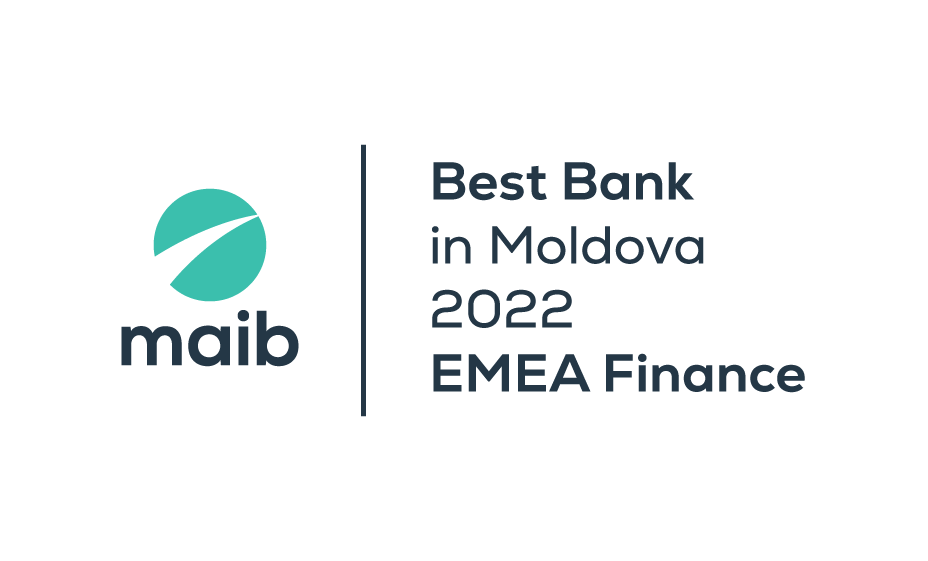 Maib has been named the Best Bank in Moldova for the second consecutive year by EMEA Finance. EMEA Finance magazine, a financial publication aimed at business leaders in banking and finance, is published six times a year. EMEA Finance holds annual awards where it recognizes the best banks and finance providers in Europe, the Middle East, and Africa.
In 2022, the banking sector in Moldova faced significant challenges due to the energy crisis and the consequences of the war in Ukraine. The energy crisis, high inflation, coupled with drought in the agriculture sector, had a significant impact on Moldova's overall economy. The array of challenges posed a significant test for the Moldovan banking system, which demonstrated resilience, enhanced liquidity, and the ability to withstand and navigate through the challenges effectively. Despite the adverse conditions, maib remained well-capitalized and maintained a leading position in all banking segments, showcasing its strength and stability. Furthermore, maib exhibited strong growth prospects, indicating its potential for future success.
Maib 2022 operational and financial achievements:
Net Profit reached MDL 1,131 million , up by 56.8% year-on-year
Market leader across most categories in Moldovan banking sector
Return on Equity (ROE) reached 18.8% (up from 13.9% in 2021)
Started agile transformation – first teams in Retail and SME segments converting to agile way of work to deliver tangible operating improvements
Ongoing branch transformation to the new branch operating model
New digital payment solutions launched: Apple Pay, Google Pay, Garmin Pay.
Launch of two new digital ecosystems – AgricolaHub and Casahub

Giorgi Shagidze, maib CEO:
"We are very honored to be awarded the title of Best Bank in Moldova by EMEA Finance. This recognition reflects our continuous efforts in providing an exceptional experience for our clients. Throughout the 2022, which was a challenging year for the Moldovan banking sector, we remained a trusted and reliable partner, always acting in the best interests of our clients. This achievement confirms the soundness of our strategic direction, the high quality of our product and service portfolio, and the commitment and professionalism of our maib employees."
About maib
Maib is the largest bank in Moldova, with a share of 31.9% of deposits and 37.0% of loans of the entire banking system at the end of Q1 2023. Maib is a disciplined lender with NPL ratio of 2.3% and is well capitalised with CAR of 21.8% as of 31 March 2023. The Bank is of systemic importance and serves almost a third of the country's population. Since 2018, maib's largest shareholder is a consortium, which includes the European Bank for Reconstruction and Development (EBRD), Invalda INVL, a leading asset management group in the Baltic States and Horizon Capital, a private investment fund focused on emerging markets.
Recent Investor Relations Releases
Upcoming investor events
22 August 2023 – H1 & 2Q 2023 Financial Results Release and Conference Call
Contact investor relations
Press Contact
Daniela Șerban
E-mail: Dserban@vertikgroup.eu
Phone: +40742242662
Maib Investor Relations
Evgenii Risovich
E-mail: Evgenii.Risovich@maib.md
Phone: +37368403477