Maib Publishes its First Sustainability Report
07 Jun, 2023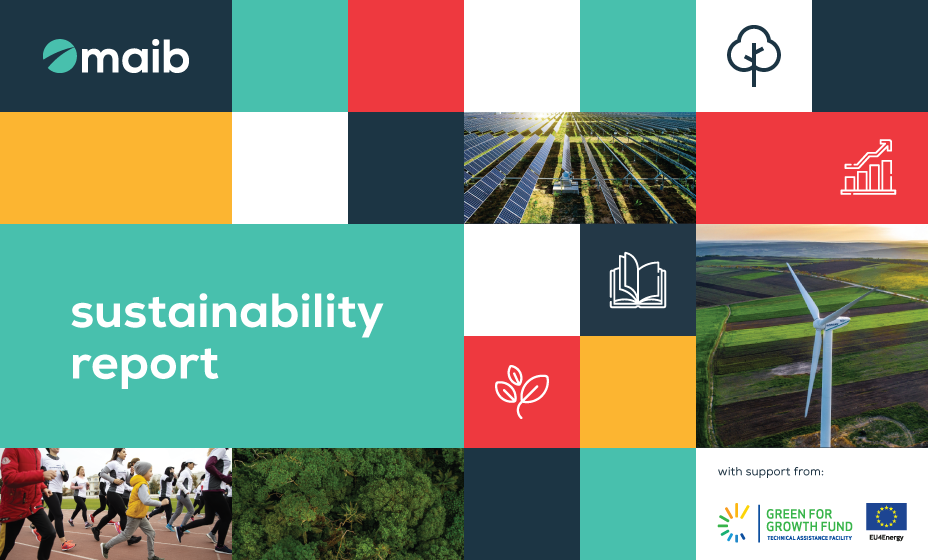 Maib Publishes its First Sustainability Report
Maib is pleased to announce the release of its inaugural Sustainability Report, disclosing its impact beyond purely financial metrics. This report provides detailed information on maib's sustainability strategy buildout, responsible business activities, carbon footprint, social responsibility and governance in 2022. It aims to create a benchmark to improve upon in future years.
The report was produced with the support of the Technical Assistance Facility of the Green for Growth Fund, and with the assistance of the European Union under the EU4Energy Initiative.
The report can be downloaded at the following address.
Key highlights from Sustainability Report 2022:
Sustainability strategy buildout: maib established a high level sustainability strategy overview and a governance mechanism and is working to set up full sustainability strategy with long- and short-term goals and KPIs.

Environmental impact: maib's estimated carbon footprint for 2022 was 12,450 tCO2e (excluding financed emissions).

Responsible employment practices: maib aims to develop and empower its workforce. In 2022, the average training hours per employee increased by 7.8 hours compared to 2021.

Renewable Energy & Green Lending: maib's portfolio of green loans (comprising renewable energy and energy efficiency products) reached MDL 300 million across 92 loans to SME and Corporate segment customers.
Giorgi Shagidze, maib CEO, said:
"As the largest commercial bank in Moldova, we understand the significant responsibility we have in promoting positive impacts on our environment, society, and economy. It is with great pleasure that we present our first sustainability report covering 2022, highlighting our efforts in addressing critical topics that matter to our stakeholders."
Chris Knowles, Chairperson of GGF Fund, noted:
"Today, maib, Moldova's largest financial institution, has published its inaugural Sustainability Report, made possible through our partnership and support. Through this publication maib demonstrates its commitment to a transparent pursuit of banking practices that support both people and planet. With the GGF's assistance and the expertise of Deloitte, maib has started a dedicated Sustainability Program, outlined an ambitious sustainability strategy, and established an internal governance framework, all of which reflect its dedication to sustainable growth. It is a work in progress, but we are confident in its success"
About maib
Maib is the largest bank in Moldova, with a share of 31.9% of deposits and 37.0% of loans of the entire banking system at the end of Q1 2023. Maib is a disciplined lender with NPL ratio of 2.3% and is well capitalised with CAR of 21.8% as of 31 March 2023. The Bank is of systemic importance and serves almost a third of the country's population. Since 2018, maib's largest shareholder is a consortium, which includes the European Bank for Reconstruction and Development (EBRD), Invalda INVL, a leading asset management group in the Baltic States and Horizon Capital, a private investment fund focused on emerging markets.
Upcoming Investor Events
15 June 2023 - Annual General Shareholders Meeting
Recent Investor Relations Releases
Contact investor relations
Press Contact
Daniela Șerban
E-mail: Dserban@vertikgroup.eu
Phone: +40742242662
Maib Investor Relations
Evgenii Risovich
E-mail: Evgenii.Risovich@maib.md
Phone: +37368403477