Maib signs a €50 million financing package from EBRD to reinforce its funding base
12 May, 2022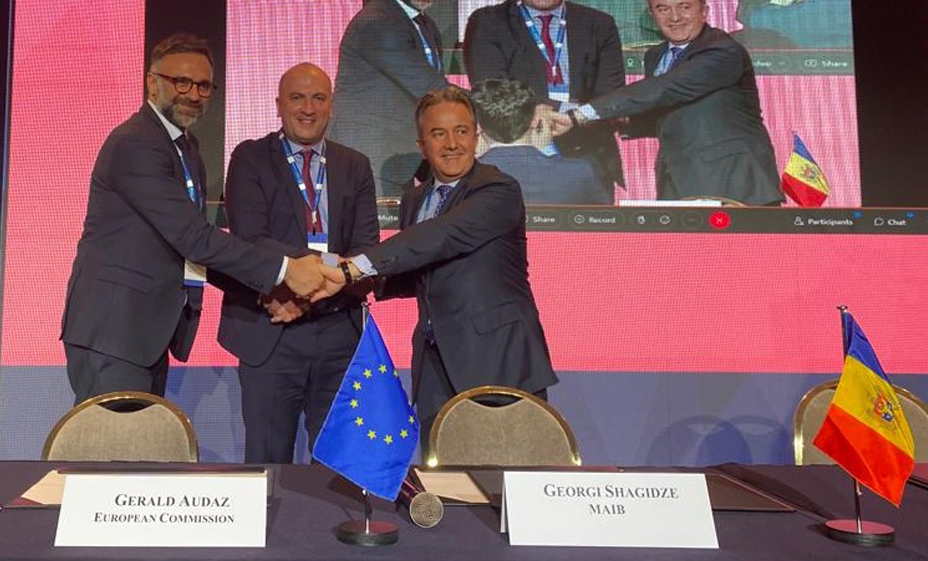 A €50 million finance package provided by European Bank for Reconstruction and Development (EBRD) to maib for sustaining the national economy in the face of neighboring war in Ukraine was signed yesterday at EBRD Annual Meeting in Marrakech by Giorgi Shagidze, Chief Executive Officer of maib, and Francis Malige, the EBRD's Managing Director for Financial Institutions.
The first loan consists of €35 million within the EBRD Resilience and Livelihoods Framework pledged to support the countries and companies directly or indirectly affected by the war in Ukraine. The financial package will strengthen and diversify maib's funding base for sustaining the local business.
The second loan of €15 million extends maib's participation in the EU4Business-EBRD Credit Line intended to finance the small and medium-sized enterprises (SMEs).
The EU4Business-EBRD Credit Line is supported by the EU grants and free-of-charge assistance to borrowers. Under the agreement maib's will support SME clients to upgrade their products and services in line with the EU standards, to increase competitiveness locally and to realize international trade opportunities. Maib has previously received €30 million and financed about 50 SME clients under this programme.
The EU is supplementing the EBRD financing with grants and free-of-charge technical assistance to borrowers under its EU4Business initiative. The agreement follows maib's already signed EUR 30 million under the programme over the past 2 years.
Cementing maib's SME segment leadership
This financing fully aligns with maib's strategy and development in small business lending. In 2021 maib recorded a 35% increase in SME loans year over year, while extending its already leading position in SME loans by 4%. At the end of 2021 maib's market share in SME lending was 26.3%, and further improved to 26.7% at end of Q1 2022. Maib's medium term goal is to reach 40% share in SME lending by end of 2024. In the past year maib's SME business unit was redesigned to become more relevant, responsive and quick in addressing the needs of small business in Moldova. Giorgi Shagidze, maib CEO:
This is a remarkable contribution to maib's strategy to encourage the small business in Moldova. This loan will help us assist the businesses cover their financing needs in light of the geopolitical events. I would like to express my gratitude to EBRD and the EU for their partnership with maib and continuous support for the Moldovan economy. We are very pleased and grateful to be able to help our clients making loans more accessible to enable their growth."
About maib
Maib is the largest bank in Moldova, accounting for 31.4% of country's banking assets and 34.9% in loans as of 31 December 2021. The bank provides 26% of all mortgage loans extended to Moldovans, serves over 35% of Moldova's population and is among the largest employers in the country. The bank is well capitalized with Tier 1 Capital ratio of 21.1% as of 31 December 2021. Maib is widely recognized for its customer service and product innovation. Since 2018, maib's largest shareholder is a consortium of investors composed of European Bank for Reconstruction and Development, Invalda INVL, a leading asset management group in the Baltics, and Horizon Capital, an Emerging Europe focused private equity fund manager.
Upcoming investor events
8-10 June - Wood & Co Prague Spring EME Conference
15 June - Annual General Shareholder Meeting
Contact investor relations
For further enquiries, please contact: IR@maib.md or by phone at +373 22 303 237 or visit our website ir.maib.md