Maib strategy refreshment session in Amsterdam for up to 60 of its top and middle managers
21 Oct, 2022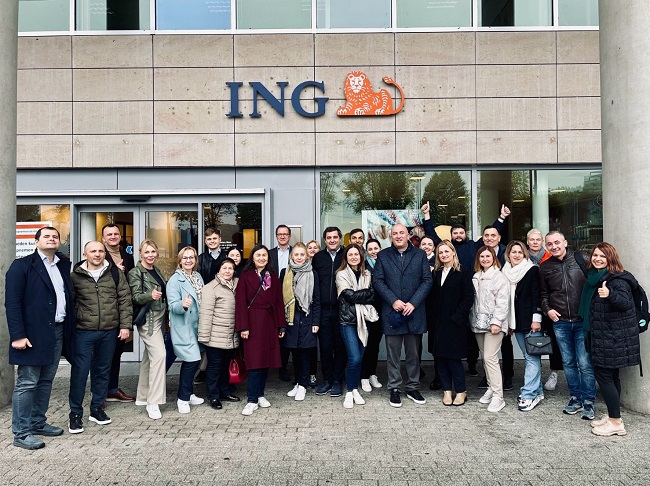 Maib completes strategy refreshment session in Amsterdam for up to 60 of its top and middle managers
Maib took nearly 60 of its top and middle managers to a strategic work session in Amsterdam. Organized together with the top strategy consultancy firm followed by visits and discussions with leading global banks, including ING, ABN Amro and Rabobank, organised by Wisselbanck with support from The Banking 50.
Broad strategic review
The event focused on trends in global banking today and emerging challenges of the near future. Some specific discussions and sessions covered the following:
customer experience and centricity;
digital channel;
distribution network;
ecosystems;
payments;
international expansion of digital services.
Maib team visited newly updated branches of ING and saw highly innovative "home" concept of banking branch being rolled out by ING across its network.
A variety of speakers included the team which implemented Agile at ING sharing their insights into the revolutionary development. During the session, Maib's performance across various metrics was benchmarked against regional and global peers.
The session is a conclusive part of the strategic refreshment project implemented in close cooperation with a top strategy consultancy firm. Within the next few weeks maib management will formulate the updated strategic priorities and targets and specific roadmap to achieve those. Maib team included the core group of managers responsible for development and implementation of maib strategy.
Human capital development
The strategic session in Amsterdam covered global best practices in banking. It gave maib team a chance to learn the ways of banking as implemented by leading global players. Earlier this year maib launched Maib Academy initiative offering a wide range of training to maib employees across all functionalities. FOR new entrant and prospective employee level maib set up Student Lab within the Moldovan Academy of Economic Studies and implemented dual education and an internship program, now in its second year. Focus on continuous learning and development of Human Capital is strategic priority for the bank aiming to compete on the global scale.
Giorgi Shagidze, maib CEO, said:
"The strategic session provided an inspiration to maib team to refresh the strategy and continue its successful execution. I would like to thank our partners for organizing such an interesting event. I am very happy that we have been able to do this with such high involvement and participation of about 60 people from maib who will be key to execute the exciting initiatives: learning is an important part of maib's development and on this note we continue active involvement and investment in our people through various key initiatives. The same group of people will start an 8-week Leadership Development Program developed together with Stanford GSB."
About maib
Maib is the largest bank in Moldova, with a share of 32.7% of deposits and 35.5% of loans of the entire banking system at the end of first half of 2022. The bank is of systemic importance and serves almost a third of the country's population. Maib's total capital ratio is 22.1% as of 30 June 2022. Since 2018, maib's largest shareholder is a consortium, which includes the European Bank for Reconstruction and Development (EBRD), Invalda INVL, a leading asset management group in the Baltic States and Horizon Capital, a private investment fund focused on emerging markets from Europe.
Upcoming investor events
10 November – 3Q 2022 Results
21 November – Virtual SEE Day by Raiffeisen Bank International
6 December – Winter Wonderland by WOOD&Co. in Prague
Contact investor relations
For further enquiries, please contact: IR@maib.md or by phone at +373 68 403 477 or visit our website ir.maib.md