Maib ranked market leader in all key segments by Euromoney
25 Oct, 2022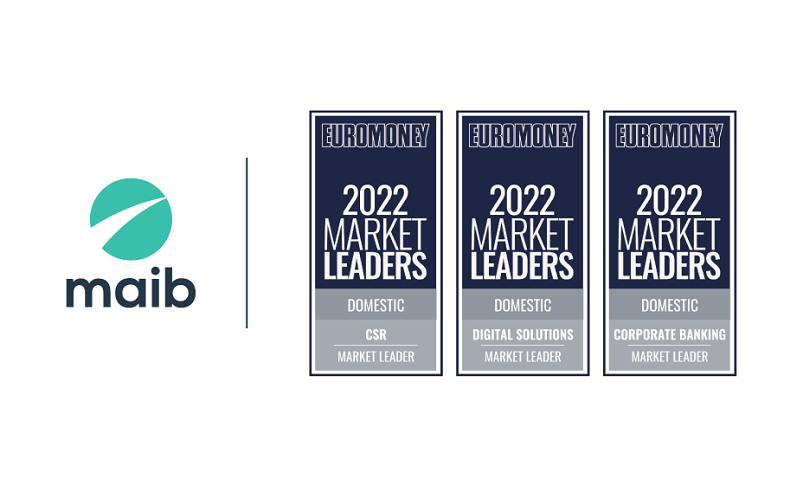 Maib ranked Market Leader in all key segments in the inaugural ranking of Moldovan banks by Euromoney
Maib added another important recognition to its impressive record of accomplishments, this time being ranked by Euromoney magazine as the market leader in 3 key segments, namely Corporate, Digital and Corporate Social Responsibility. It is the first time that Euromoney covers Moldovan banks in its annual rankings. Euromoney ranking is a well-researched survey based on performance data, surveys, and banking expert views.Euromoney's annual awards programme, which was established in 1992, attracts over 2,000 submissions from more than 500 of the world's leading banks in 113 countries and recognizes excellence across global, regional and individual country categories.
Giorgi Shagidze, maib CEO:
"We are proud to see that our efforts have resulted in these outstanding results. In the past two years maib embarked on a very ambitious transformation. We revamped our processes and products in order to put customer in the center and make digital banking the engine of our growth, being ranked top in Moldova in all key segments is the evidence of our hard work paying off. I would like to thank our customers and maib colleagues for this achievement."
Maib transformation
The last two years have been a busy time for maib. In mid-2021 the Bank unveiled a new strategy and launched a transformation supported by four key pillars:
Customer at the center;
Orchestrator of financial digital ecosystems;
Listing on a major international stock exchange;
International expansion via digital further down the line.
In terms of customer experience, maib has unveiled its new brand identity in October 2021, with rebranding aimed to attract the attention of retail customers. Along with its rebranding maib has embarked on an Agile Transformation, a project is expected to lead to long-term organizational and cultural changes that will lead to tangible operational improvements. The agile operations model is based on a flatter organizational structure compared to the traditional hierarchy and is better designed to deliver results in an environment of rapid change.
Starting with 2022, maib has launched three digital ecosystems: DriveHub, CasaHub and AgricolaHub which are going to be followed by at least one more in the medium-run, on the way to creating a single digital app MyHub. The ecosystems are able to deliver to customers easy solutions to facilitate real estate, car and agricultural transactions. Becoming the leader of financial ecosystem is the key in the digitalization strategy of maib. In addition, as of the end of the second quarter of 2022, 355 thousands clients used Maibank app, representing a 52% year-on-year increase. 33% of unsecured loans were granted via the mobile app, as well as over 40% of term deposits during the most recent period.
Maib's financial highlights from the 1H 2022:
Net Interest Income increased by 60.1% year-over-year;
Loan Market share of 35.5% with a 4.5% increase in the SME segment;
Assets increased by 4.8% year-over-year;
ROE increased by 7.7% year-over-year to 17.4%;
57 Branches and 25 agencies in total finished moving to the new operating model.
About Euromoney
Euromoney magazine was launched in 1969 to cover the emergence of the international cross-border capital markets. The euromarket, after which the magazine is named, is the predecessor to today's mainstream global capital markets. Today, Euromoney is the primary magazine of the wholesale financial world, its institutions and its users, and has been for more than 50 years.
About maib
Maib is the largest bank in Moldova, with a share of 32.7% of deposits and 35.5% of loans of the entire banking system at the end of first half of 2022. Maib is a disciplined lender with NPL ratio of 2.5% and is well capitalised with CAR of 22.1% as of 30 June 2022. The bank is of systemic importance and serves almost a third of the country's population. Since 2018, maib's largest shareholder is a consortium, which includes the European Bank for Reconstruction and Development (EBRD), Invalda INVL, a leading asset management group in the Baltic States and Horizon Capital, a private investment fund focused on emerging markets from Europe.
Upcoming investor events
10 November – 3Q 2022 Results
21 November – Virtual SEE Day by Raiffeisen Bank International
6 December – Winter Wonderland by WOOD&Co. in Prague
Contact investor relations
For further enquiries, please contact: IR@maib.md or by phone at +373 68 403 477 or visit our website ir.maib.md