Maib named Best Bank in Moldova 2023 by Euromoney
13 Jul, 2023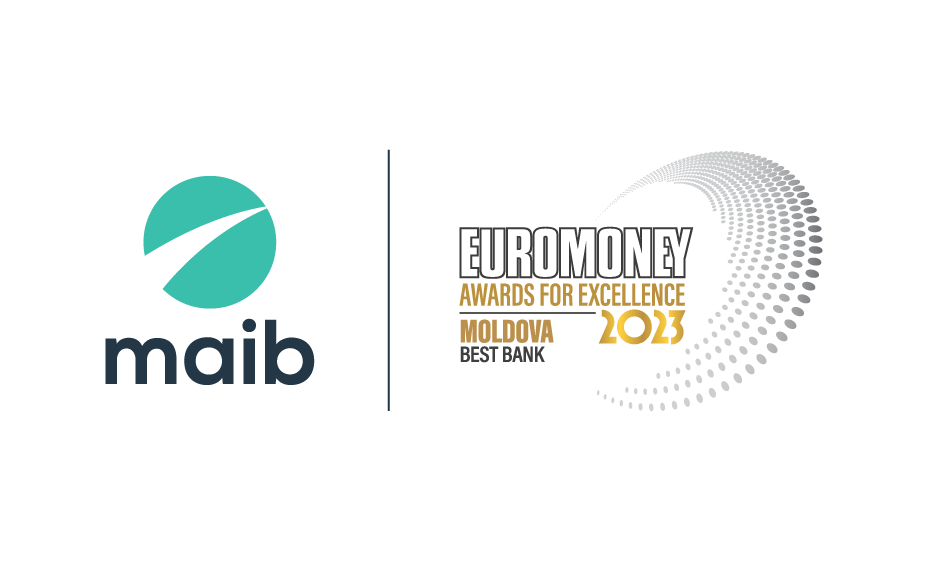 Maib named Best Bank in Moldova 2023 by Euromoney
Maib has been named the Best Bank in Moldova at the Euromoney Awards for Excellence 2023. This prestigious award underlines maib's leading position in the Moldovan banking system, as measured by market share, profitability and growth, as well as maib's continued investments in customer service and innovation. Euromoney Awards for Excellence is based on multiple factors assessed via performance data, surveys, and banking expert views. Euromoney's annual awards programme, which was established in 1992, attracts over 2,000 submissions from more than 500 of the world's leading banks in 113 countries and recognizes excellence across global, regional and individual country categories.
Giorgi Shagidze, maib CEO:
"We are very proud to receive this important recognition, and I want to thank Euromoney for acknowledging our efforts in the past year. This prestigious award reflects our hard work and the progress we are making in delivering the best banking experience to our clients. We are also leading the way in setting high standards for corporate governance, quality, and innovation. We will build on this success and continue to bring the best practices in banking to Moldova. I want to express my gratitude to the entire maib Team, our clients, and shareholders for their outstanding support. "
Key recent developments for maib
Since 2021 maib embarked on a new transformational strategy. Key pillars of the strategy include improving the customer experience, becoming the orchestrator of financial ecosystems, digitalization of products and services and promoting sustainability:
Improving customer experience
Ongoing branch transformation under the new operating model – more than half of all branches already transformed
Alto Premium Banking launched in 2022, a unique product on the Moldovan market, which quickly became highly successful
Launch of innovative corporate bond product in 2023 which offers a higher rate of return compared to bank deposit
Continuous improvement of customer-facing services and products across all categories – payments, mobile application, digital solutions, savings, loans, client advisory
Digital Development
Maib launched three digital ecosystems: DriveHub, CasaHub and AgricolaHub following these achievements:

172 thousand unique visitors in March 2023
Rising number of returning visitors : CasaHub (37.4%) , DriveHub (36.9%), AgricolaHub (13.6%)

Maibank App active users reached 500 thousand in June 2023
New digital payment solutions launched in 2022 were warmly embraced by customers – Apple Pay, Google Pay, Garmin Pay.
Sustainability
In 2022, maib released its inaugural sustainability report, which offers comprehensive insights into the development of maib's sustainability strategy, responsible business initiatives, carbon footprint, social responsibility efforts, and governance practices
Maib's green loan portfolio in 2022 reached MDL 298.6 million, primarily comprising loans dedicated to renewable energy projects.
Maib is working to adopt the sustainability strategy at the Supervisory Board level shortly.
About maib
Maib is the largest bank in Moldova, with a share of 31.9% of deposits and 37.0% of loans of the entire banking system at the end of Q1 2023. Maib is a disciplined lender with NPL ratio of 2.3% and is well capitalised with CAR of 21.8% as of 31 March 2023. The Bank is of systemic importance and serves almost a third of the country's population. Since 2018, maib's largest shareholder is a consortium, which includes the European Bank for Reconstruction and Development (EBRD), Invalda INVL, a leading asset management group in the Baltic States and Horizon Capital, a private investment fund focused on emerging markets.
Recent Investor Relations Releases
Upcoming investor events
22 August 2023 – H1 & 2Q 2023 Financial Results Release and Conference Call
Contact investor relations
Press Contact
Daniela Șerban
E-mail: Dserban@vertikgroup.eu
Phone: +40742242662
Maib Investor Relations
Evgenii Risovich
E-mail: Evgenii.Risovich@maib.md
Phone: +37368403477