Maib 1H 2022 results: Continued progress against a challenging economic backdrop
16 Aug, 2022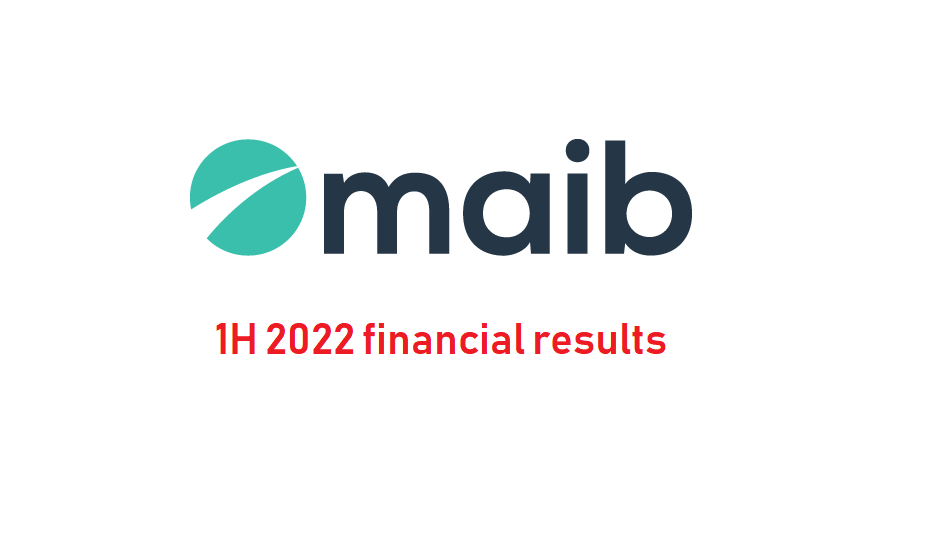 Today maib presents financial results for the First Half (1H) and the Second Quarter (2Q) of 2022[1]. Net profit nearly doubled year-on-year to MDL 514 million (+88% YoY) but signs of slowdown in lending were evident, and are expected to persist in the second half of 2022:
A combination of economic and geopolitical factors resulted in pronounced economic slowdown in Moldova and inflation rate exceeding 30%;
2Q saw a slowdown in lending due to a combination of reduced consumer and business confidence, record high inflation and substantial increase of the base rate by the National Bank of Moldova;
Slowdown in lending is expected to continue in the second half of 2022;
Maib continued gaining market share across all categories of banking activity and recorded substantial progress against its strategic objectives
1Q saw a reduction of deposits by nearly 8% system-wide, the trend which was reversed in 2Q. As of 30 June 2022 deposits were down by 2% compared to year end 2021;
The Bank remains exceptionally well capitalized and with ample liquidity to maintain its lending activity (CAR 22.1%, Tier 1 Ratio 19.9%).
Key Economic and Country Updates
Moldova received EU candidate status in June 2022;
Series of legislative changes covering lending activity were adopted by the Parliament and the National Bank of Moldova (NBM). These changes focus on combatting predatory lending and promoting responsible banking practices;
Substantial increase in base rate and required reserves for banks were adopted by NBM during the period in response to high inflation.
[1] Financial results for 2Q and 1H 2022 are based on unaudited standalone financial statements and do not include the financial position and performance of the two subsidiaries, which represent less than 2% of the consolidated balance sheet
Financial Highlights
1H 2022 Financial Performance Highlights
Net Profit for 1H 2022 amounted to MDL 514.2 million (1H 2021: MDL 274.1 illion), up by 87.6% YoY
Return on average equity (ROE) stood at 18.1% (1H 2021: 10.7%)
ROE before expected credit losses (ECL) stood at 23.6% (1H 2021: 14.8%)
Return on average assets (ROA) stood at 2.7% (1H 2021: 1.7%)
Cost to income ratio stood at 49.9% (1H 2021: 58.8%)
Cost of risk (at period-end) stood at 0.3% (1H 2021: 0.2%)
Net interest margin (NIM) stood at 5.3% (1H 2021: 3.9%)
Basic quarterly earnings per share (EPS) stood at MDL 496 (1H 2021: 264 MDL)
Balance Sheet Highlights as of 30 June 2022
Total assets reached to MDL 40.0 billion, up by 0.7% QoQ and by 17.4% YoY
Total loans stood at MDL 21.2 billion, up by 3.8% QoQ and up by 25.1% YoY
Net loans to deposits ratio stood at 72.4%, down by 1.0 pp QoQ and up 12.3 pp YoY
Non-performing loans (NPL) were 2.5%, up by 0.2 pp QoQ and down by 1.8 pp YoY
NPL ECL coverage and total ECL coverage ratios stood at 191.2% and 3.9%, respectively, on June 30, 2022, compared to 150.2% and 4.6% as of June 30, 2021
Total customers deposits amounted to MDL 28,017 million, up by 5.2% QoQ and up by 9.6% YoY
The Bank's Capital Adequacy Ratio and Tier 1 capital ratio stood at 22.1% and 19.9%, respectively
Maib market share in Moldova
Market share by total assets was 32.4%, up by 2.1 pp YoY
Market share by total loans was 35.5%, up by 1.3 pp YoY
Market share of total deposits reached 32.7%, up by 1.9 pp YoY
Operating highlights
MAIBank users reached 355 thousand (up by 10% QoQ and up by 52% YoY)
73% Monthly Retail Active Users (MAU%);
33% of Daily Active Retail Users to Monthly Retail Active Users (DAU/MAU%)
41% of number of retail deposits and 32% of number of retail loans originated online during 1H 2022 compared to 7% and 25%, correspondingly, originated in 1H 2021
82% of number of retail transactions are cashless (performed via cards)
125 K cards issued in 2Q 2022, 44% more than in 1Q 20202
10K new MAIBank users connected every month (average 2Q 2022)
Permanent download links:
Conference call
Maib will hold conference call covering 1H and 2Q results today Tuesday, 16 August at 16:30 via zoom.
To access the call please use the following link
Code for the call is 1111.
Simultaneous translation in Romanian and Russian will be available to the participants. Please submit your questions via chat or via email at evgenii.risovich@maib.md.
Teleconferinta
Maib va ​​organiza o conferință telefonică care acoperă rezultatele 1H și 2Q astăzi, marți, 16 august, la ora 16:30, prin zoom.
Pentru a accesa apelul va rugam sa folositi urmatorul link
Codul pentru apel este 1111.
Traducerea simultană în română și rusă va fi disponibilă pentru participanți. Vă rugăm să trimiteți întrebările dvs. prin chat sau prin e-mail la evgenii.risovich@maib.md.
Конференц-звонок
Cегодня во вторник, 16 августа, в 16:30 в зуме maib проведет телефонную конференцию, посвященную результатам за первое полугодие и второй квартал.
Чтобы получить доступ к вызову, пожалуйста, используйте следующую ссылку
Код для звонка 1111.
Участникам будет доступен синхронный перевод на румынский и русский языки. Пожалуйста, направляйте свои вопросы в чат или по электронной почте evgenii.risovich@maib.md.
Upcoming investor events

13 September 2022 – Moldova - Romania: Capital Bridges, Bucharest
15-16 September 2022 – Frontier Investor Days by WOOD&Co., Bucharest

Contact investor relations

For further enquiries, please contact: IR@maib.md or by phone at +373 22 303 237 or visit our website ir.maib.md