Maib - Best Bank in Moldova in 2023 by the Global Finance Magazine
28 Mar, 2023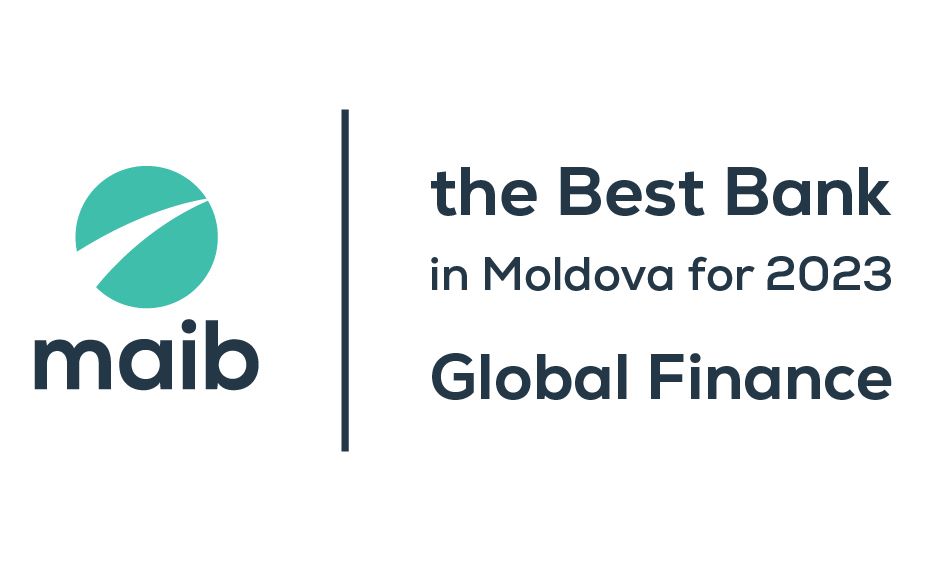 For the seventh consecutive year maib has been recognized as the Best Bank in Moldova by Global Finance Magazine. The magazine, which evaluates banks from 22 other countries in Central and Eastern Europe, has acknowledged maib's significant progress and achievement in the banking sector, cementing its position as the top-performing bank in the country.
Maib has achieved impressive results across multiple areas in the past year, including growth in assets, profitability, strategic partnerships, new business development, and product innovation. These accomplishments have been acknowledged not only by the bank's peers in the banking industry, but also by experts from various other fields.
Maib achievements from 2022:
Loan portfolio grew by 15.4%;
SME loan portfolio up by 46.7% and 5.1% gain of market share in the segment;
The number of clients exceeded 1 million;
Maibank app users number increased by 45% to 430,000.
Giorgi Shagidze, maib CEO:
"We are very grateful to Global Finance for this prestigious award and for acknowledging our efforts. At maib we remain dedicated to innovation and enhancing our banking solutions to provide our customers with convenient, user-friendly experiences. Our goal is to set a new standard for customer service, and we will continue striving towards this objective. Additionally, I extend my appreciation to our loyal customers, whose support has been instrumental in our outstanding performance over the past year."
About Global Finance
Global Finance is a leading financial publication aimed at senior decision makers in the world of finance. Global Finance regularly selects the top performers among banks and other financial services providers. These awards have become a trusted standard of excellence for the global financial community.
About maib
Maib is the largest bank in Moldova, with a share of 33.0% of deposits and 37.2% of loans of the entire banking system at the end of 2022. Maib is a disciplined lender with NPL ratio of 2.54% and is well capitalised with CAR of 22.2% as of 31 December 2022. The bank is of systemic importance and serves almost a third of the country's population. Since 2018, maib's largest shareholder is a consortium, which includes the European Bank for Reconstruction and Development (EBRD), Invalda INVL, a leading asset management group in the Baltic States and Horizon Capital, a private investment fund focused on emerging markets from Europe.
Upcoming investor events
18 May – 1Q 2023 Financial Results Release and Conference Call
Contact Investor Relations
Press Contact
Daniela Șerban
E-mail: Dserban@vertikgroup.eu
Phone: +40742242662
Maib Investor Relations
Evgenii Risovich
E-mail: Evgenii.Risovich@maib.md
Phone: +37368403477