ONE WEEK TO GO Moldova - Romania: Capital Bridges in Bucharest on 13 September
06 Sep, 2022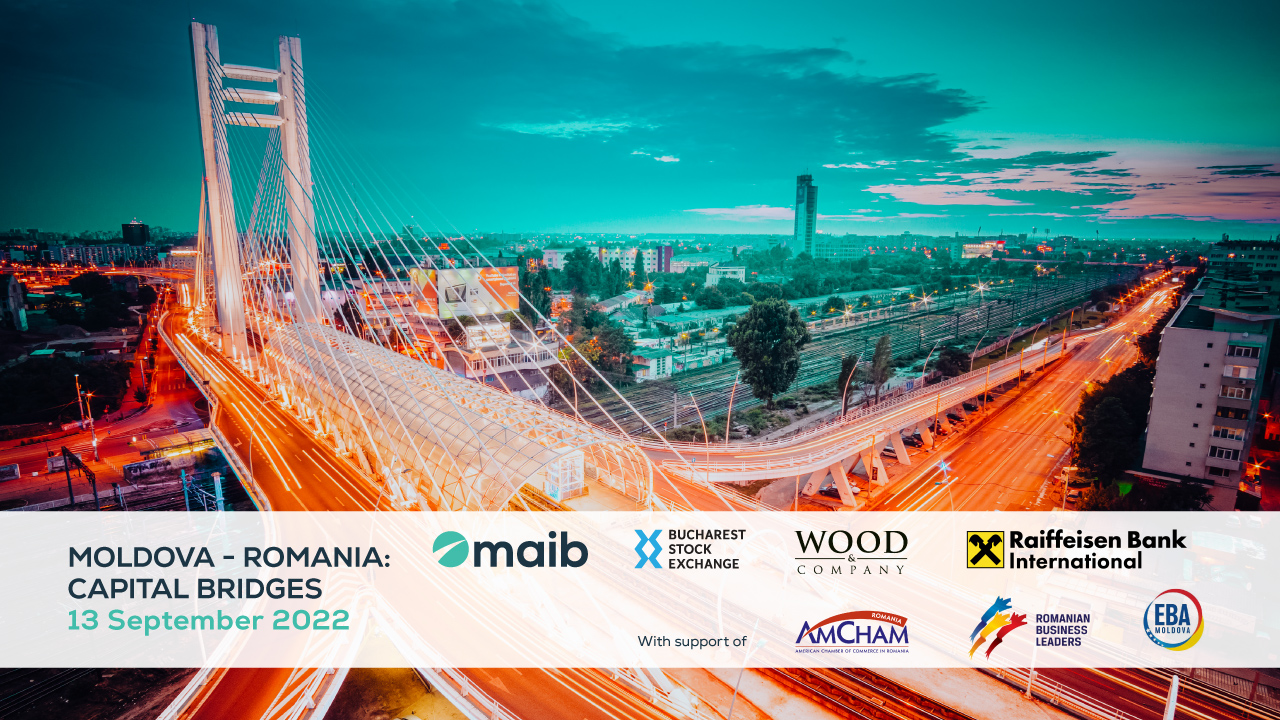 Moldova - Romania: Capital Bridges forum in Bucharest
The event will be streamed live. You can watch the event from 14:00 Chisinau time at the following addresses in both English and Romanian.
Maib in association with Bursa de Valori Bucuresti in partnership with WOOD & Co. and Raiffeisen Bank International and supported by the Government of The Republic of Moldova, AmCham Romania and Romanian Business Leaders is pleased to invite you to Moldova - Romania: Capital Bridges 2022 forum on Tuesday 13 September 2022 at JW Marriott Hotel Bucharest.
Format: Hybrid In-Person/Virtual
Date: Tuesday 13 September 2022
Time: 14.00 - 19.00 (registration starts at 13:00)
Venue: JW Marriott Hotel Bucharest
Event Agenda
14.00-15.00 Opening remarks (introduction by Mr Giorgi Shagidze, CEO maib)
Mr Nicolae Ciucă, Prime Minister of Romania
Mrs Natalia Gavrilita, Prime Minister of Moldova
Mrs Odille Renaud-Basso, President, EBRD (online address)
Mr Nicu Marcu, President, ASF
Mr Radu Hanga, Chairman, Bursa de Valori Bucuresti
15.05-15.30 Fireside Chat with the Prime Minister of Moldova Mrs Natalia Gavrilita. Moderated by Mrs Raffaella Tenconi, Senior Economist, WOOD&Co.
15.30-16.10 Panel 1: Moldova – Newest EU Candidate Country
Mr Janis Mazeiks, EU Ambassador to Moldova
Mr Dumitru Alaiba, MP, Head of Parliamentary Committee on Budget and Economy, Moldova
Mr Vytautas Plunksnis, Head of Private Equity, Invalda INVL, EU investor in Moldova
Mr Vasile Tofan, Senior Partner, Horizon Capital
Moderated by Mrs Mariana Rufa, CEO of European Business Association Moldova
16.20-17.10 Panel 2: Economic Challenges of Today: Uncertainty and Opportunities for Moldovan Economy
Mrs Angela Sax, EBRD Head of Moldova Office
Mrs Andreia Radu, IFC Regional Business Leader
Mr Iurie Turcanu, Deputy Prime Minister, Digitalisation
Mr Alberto Carlei, Head of EIB Office, Moldova
Moderated by Mrs Raffaella Tenconi, Senior Economist, WOOD&Co.
17.20-18.00 Panel 3: Doing Business in Moldova: Participants' View
Mr Giorgi Shagidze CEO maib
Mr Bogdan Plesuvescu, CEO Victoriabank Group Banca Transilvania
Mr Eugen Comendant, Purcari COO
Mr Bogdan Spuză, CEO of OTP Moldova
Moderated by Mrs Bayan Carter, Associate Director, EBRD
Closing remark by Mr Adrian Tanase, CEO BVB, followed by Moldovan wine tasting organized by Purcari.
To express your interest in participating please follow this link
Registration for physical participation closes on Thursday 8 September.
For any questions about the event please contact maib Investor Relations. We look forward to seeing you at Romanian Moldovan Capital Bridges 2022!