Maib executives complete Stanford Graduate School of Business Leadership program
02 Mar, 2023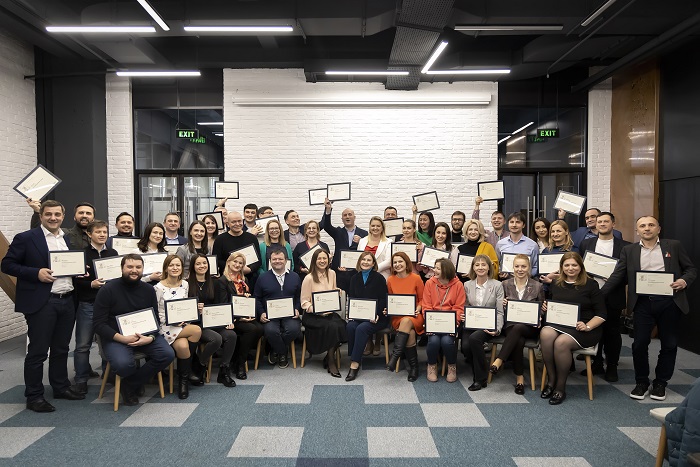 Maib executives complete Stanford Graduate School of Business Leadership program
Maib is honored to report that almost 60 of its top and middle managers completed a specially tailored exclusive leadership and innovation program designed and delivered by Stanford Graduate School of Business Executive Education (Stanford GSB). It was titled "maib Leader Development Program". The program was designed by the Stanford GSB exclusively for maib leadership and included a series of interactive online webinars and live sessions with Stanford GSB professors (Bill Barnett, Sarah Soule, Huggy Rao, Jesper Sørensen, Yossi Feinberg).
The three-month online learning journey focused on strategy, leadership, innovation and organizational culture. With this program maib aimed to:
inspire maib leadership,
offer exposure to new ideas and challenge conventional thinking,
hone the knowledge base and skillset of leaders,
propel the leaders to the next level in their professional careers.
The key program topics included Strategic Leadership, Leading Organizational Culture Change, Designing Organizations for Creativity and Innovation. During the program, maib leaders were put through a series of case studies, challenge-based exercises, organizational framework models. They learned to understand how to lead innovation and how to scale excellence through talent and culture, and revised maib's purpose in order to reflect that the company is both customer and staff-centric.
Sarah A. Soule, Morgridge Professor of Organizational Behavior, Senior Associate Dean for Academic Affairs, Stanford Graduate School of Business:
"The faculty from the Stanford Graduate School of Business join the leadership of maib in congratulating the participants who recently completed our program. This rigorous program combined live online sessions, asynchronous learning through videos and readings, and facilitated group discussions, to help develop maib leaders' knowledge of strategy and organizations. I, as faculty director and the entire teaching team were deeply impressed by the level of preparation and insight from the participants, and we all look forward to following the organizational transformation at maib, which will be led by the remarkable group of leaders who just completed our program."
Giorgi Shagidze, maib CEO:
"We are honored to have had the opportunity to access custom-designed program from Stanford Graduate School of Business, and I would like to thank Professor Sarah Soule and the entire Stanford team who made it possible for us to go through this exciting learning journey. For the entire maib team it was a life changing experience. We have already started to put the knowledge we gained in practice, refer to the same success cases and even speak with the common business language. We believe this unique experience, first of its kind in the region, will have a long lasting impact to our purpose of creating smart and simple financial and lifestyle solutions that inspire people to be happier and businesses more successful".
Developing human capital at maib
Investing in people is one of maib's strategic priorities. Constant upskilling of maib employees is aimed at building a sustainable competitive advantage in the Moldovan banking market. The Bank also recognizes the significance of employee development in attracting and retaining high-quality personnel, many of whom prioritize professional growth. In 2022 maib established Maib Academy, offering a diverse range of training courses covering areas such as sales techniques, English language, project management, software, and other functional areas. Additionally, in partnership with the Academy of Economic Studies of Moldova (AESM), maib inaugurated Student Lab, an exact simulation of a bank branch, offering students practical lessons related to banking activities. Furthermore, maib's annual internship programs for university students are designed to help them gain valuable experience and better understand the banking sector. Stanford program is part of the human capital development focusing on top management with particular emphasis on cultural change and big picture thinking.
About Stanford Graduate School of Business Executive Education:
Stanford Graduate School of Business Executive Education annually offers more than 100 short courses and certificate programs through its Stanford Executive Education program. Executive Education programs are targeted at managers and senior executives seeking to enhance leadership skills, fill gaps in knowledge, and innovate within their organizations. These programs engage leaders in a highly-immersive, research-based academic experience, led by the same senior faculty that teach in the two-year MBA and one-year MSx degree programs.
About maib
Maib is the largest bank in Moldova, with a share of 33.0% of deposits and 37.2% of loans of the entire banking system at the end of 2022. Maib is a disciplined lender with NPL ratio of 2.54% and is well capitalised with CAR of 22.2% as of 31 December 2022. The bank is of systemic importance and serves almost a third of the country's population. Since 2018, maib's largest shareholder is a consortium, which includes the European Bank for Reconstruction and Development (EBRD), Invalda INVL, a leading asset management group in the Baltic States and Horizon Capital, a private investment fund focused on emerging markets from Europe.
Upcoming investor events
18 May – 1Q 2023 Financial Results Release and Conference Call
Contact investor relations
Press Contact Maib Investor Relations
Daniela Șerban Evgenii Risovich
E-mail:Dserban@vertikgroup.eu E-mail:Evgenii.Risovich@MAIB.MD
Phone: +40742242662 Phone: +373 68 403 477