Moldova receives EU candidate status
24 Jun, 2022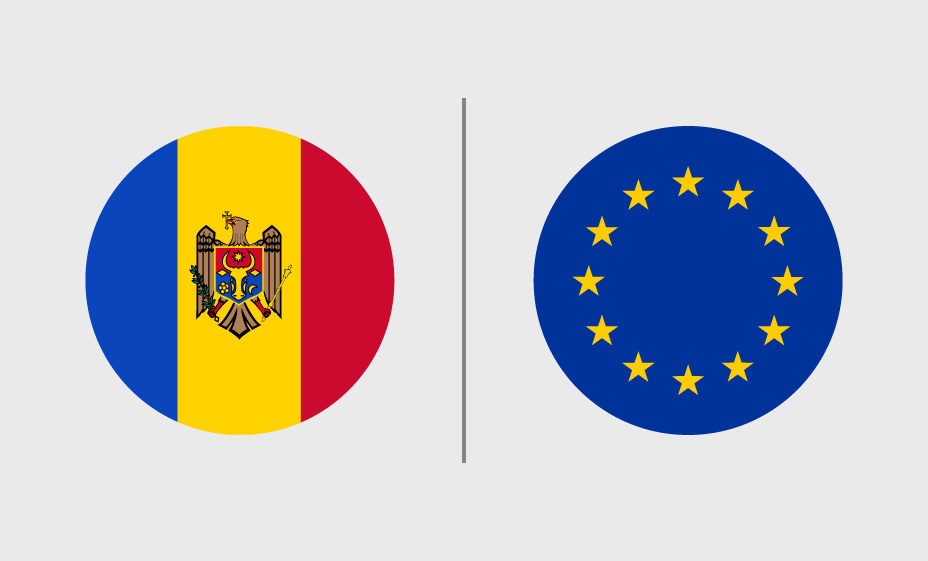 On 23 June the European Council decided to grant EU candidate status to Moldova and Ukraine, following the recommendations of the European Commission on 17 June. Both countries applied for EU membership in early March 2022, and were granted EU candidate status in record short time. Previously both Moldova and Ukraine were the parties to the EU Association agreement.
Conclusions of the European Commission and steps ahead
On 17 June the European Commission (EC) recommended that Moldova be given the status of EU candidate country. In its memorandum the EC cited that Moldova has a "...solid foundation in place to reach the stability of institutions guaranteeing democracy, the rule of law, human rights..." and that the country "...has pursued reasonably sound macroeconomic policies, significantly strengthened financial sector stability, and improved the business environment", however, "...Moldova needs to address inefficiencies to attract more foreign private investment and enhance public and private investments in strategic infrastructure, education and innovation". A report outlined a number of areas requiring specific attention: judicial reform, fight against corruption and organised crime, continuation of public administration reforms and strengthening of protection of human rights among others. In addition, the harmonisation of legislation and conditions in many spheres of life would need to be brought to a level necessary to fulfil EU membership requirements. Please see in more detail at this address. A detailed assessment of the status of implementation will be made by the EC and published by end of 2022. It will contain a roadmap for Moldova to achieve conditions that satisfy EU membership requirements. In order to implement required reforms Moldova will be able to use special EU pre-accession funds to finance necessary initiatives. It is not expected for EU accession to take less than ten years.
About Moldova
Moldova is a country of 2.9 million people bordering Romania to the west and Ukraine to the east. In 2014 Moldova signed the Association agreement with the European Union, allowing it to trade with the EU virtually barrier free. As a result EU now accounts for over two thirds of Moldovan exports. EU is also a significant investor in Moldova and an important donor financing a large number of infrastructure projects in the country since 2014. Moldovan GDP per capita is around USD 4,700, and the economy grew by 13.9% in 2021 in real terms. Government debt to GDP is under 35%. Moldovan currency is one of the most stable in Eastern Europe, gaining 5% against the Euro in the last five years.
About maib
Maib is the largest bank in Moldova, accounting for 31.4% of country's banking assets and 34.9% in loans as of 31 December 2021. The bank provides 26% of all mortgage loans extended to Moldovans, serves over 35% of Moldova's population and is among the largest employers in the country. The bank is well capitalized with Tier 1 Capital ratio of 21.1% as of 31 December 2021. Maib is widely recognized for its customer service and product innovation. Since 2018, maib's largest shareholder is a consortium of investors composed of European Bank for Reconstruction and Development, Invalda INVL, a leading asset management group in the Baltics, and Horizon Capital, an Emerging Europe focused private equity fund manager. Maib is considering listing its shares on Bucharest Stock Exchange in the medium term.

Upcoming investor events
15-16 September - Wood & Co Frontier Markets Conference

Contact investor relations
For further enquiries, please contact: IR@maib.md or by phone at +373 22 303 237 or visit our website ir.maib.md